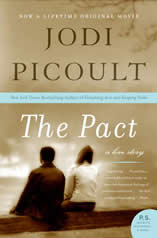 Jodi oh Jodi. You've given me another amazing book. I don't remember who recommended
The Pact
to me but I am so glad they did. I read it all on my flights to and from Chicago and I could barely put it down. As usual it covered another difficult subject, suicide, and had me feeling sorry and wanting to hug each and every character at least once. Needless to say Jodi Picoult knows her stuff.
The Pact
begins with the Hartes and the Golds, two families who have been best friends for eighteen years and their kids are almost sibling like yet they are dating. However the happy-go-lucky feel of the families is quickly shattered when both families receive a late night phone call that no parent ever wants to hear. From there, no one's lives are the same and both families are left with some many unanswered questions that slowly get answered as the story progresses. (
more detailed synopsis can be found here
)
I know this is a vague synopsis and review, but it's hard to talk about the story without giving much away. I had no idea what the story was about before I started and sometimes I think that's the best way to go into it. But then again I will say that if the idea of suicide touches close to home or isn't something you think you can handle, then I'd say step away from this book. I admit some of the conversations that came up really got to me and ugh, so sad and so deep and so Jodi.
So what did I think of it?
I really liked it (definitely better than
Handle With Care
although it did have a similar theme of two close families being torn apart). Jodi seriously knows how to tear at someones heart strings and make you want to reach out to everyone you know and make sure they're okay. I couldn't help but feel sorry for Chris for wanting to help and not knowing what to do. And at the same time I wanted to hug Emily and tell her it would all be okay. All in all this book was incredibly emotional and I'm glad I read it and I know I'll probably read more books by Jodi in the future but I think for now my emotions need a break.