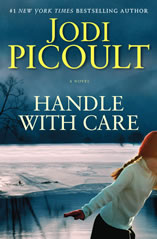 Before I started
Handle with Care
by Jodi Picoult I already knew what I was getting myself into. I knew that the subject matter would be intense, I would love or hate every character because they would all narrate at least one chapter and that the ending would be surreal. And I wasn't wrong.
After reading
My Sister's Keeper
and
19 Minutes
I kind of knew what to expect from Jodi's writing so I felt prepared for what I was getting myself into.
Handle with Care
follows the story of a young girl, Willow, who has
Type III OI
and the difficult battle that ensues within her family when her mother decides to sue her obstetrician (who is also her best friend) for wrongful birth malpractice. (
full synopsis can be found here
)
So what did I think?
I don't think I can say I looooved it, but I definitely liked it. I do love how Jodi switches narrators and you can get a feel of everyone's intentions/emotions/reactions. It definitely made sense for such a controversial story where every character had their own opinions. I also love that every character that narrated directed it all to Willow, it was all about her.
In addition to the varying narrators, I love how none of them are perfect. Jodi never makes perfect characters. Although someone may seem fine to everyone else, once they are narrating you get a look into their life and their issues and none of them are without a flaw of some sort.
I also liked that I learned something new. I believe the only time I had heard about OI was on an episode of
Extreme Makeover: Home Edition
or something like that, so the fact that this book is all about it really opened my eyes to what an extreme disability it is. It was hard to imagine a five year old going through it all, but nonetheless it happens and wow, I couldn't help but feel sorry for Willow and her family throughout the story.
On the other hand there were just one thing I didn't really like about the book. Like I said before, the end of Jodi's books are always a big twist and usually incredibly emotional. To me, the end of this book seemed so quick and all of a sudden. Although I predicted what would happen, I didn't like how it played out.
But with that said, I was still a fan of the book and would definitely recommend you pick it up if you need a seriously intense story to make you look at your life a little bit differently because that's what every Jodi book does and that's alright by me.